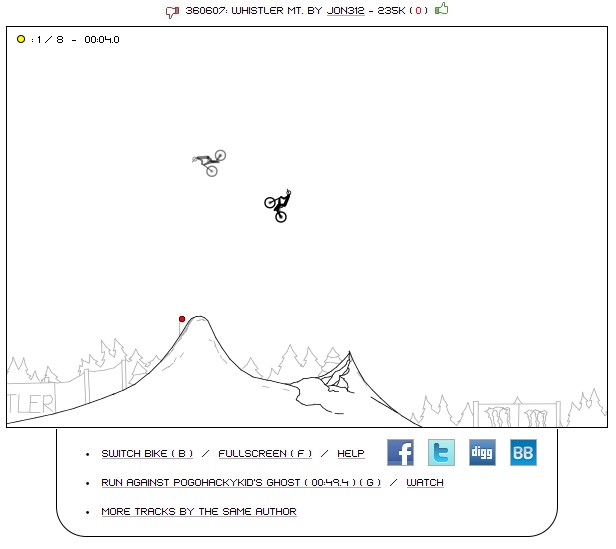 Here comes the moment you've been all waiting for!..
Because the new FR2 revision is actually a
whole remake
, I renamed it to
Canvas Rider
; check out the changelist:
---
- Flash was dropped and the whole game was rewritten using

Javascript & HTML5

.
- Brand new rendering engine that provides a

complete lag-free experience

, even on fullscreen zoomed-out highly detailed tracks
In order to get the best performances, you

need to update your browser to the very latest version

. I recommend Chrome or Firefox.
- New asynchronous

multiplayer feature
For each track, the best run will be saved as
ghost that other players can watch or compete against
!
- New

unstretched fullscreen

mode
- Unrestricted zoom: you can

zoom-out way further

than FR2.
- Improved checkpoints.
Checkpoints now
save velocity
and you can
cancel them one by one
with the backspace key.
- New track parser that

loads tracks much faster

.
- Minor

GUI improvements

.
---
I've also
removed some features to make Canvas Rider lighter & simpler
:
- Only vehicles are

BMX & MTB

.
They're what FR2 is about anyway: the other ones represent a ridiculous 5% of FR2DB tracks.
- No

dynamic camera

.
Dynamic camera is impossible on CR current rendering engine because I would have to add an extra "layer" of processing. I might work on it sometimes though.
-

No background themes

.
CR is meant to run tracks with crazy scenery!
-

No quality setting

.
CR isn't Flash so there's no actual quality setting
, it's always high.
-

No left menu

.
It's been replaced by links & hotkeys.
-

No track previewer

.
Canvas Rider's new track parser & unrestricted zoom are faster and
character count is now displayed next to the track name
when you play it
---
Canvas Rider is so awesome I also had to make a new website for it, with a changelist too:
- New minimalistic FR2-style design with

rideable banner

.
-

More tracks per page
-

New voting system

that tracks IPs instead of usernames (

no registration required

)
- New

popular tracks

and

popular authors

tracklists
---
I've been working really hard on CR during the whole summer so I'll take a well-deserved break before working on it again, but future updates
might
include:
-

New scoring system

with combos and the ability to

save the most stylish run

.
-

Updated track editor
---
I guess you understant why it took a bit of time now...
Now enjoy your new favorite website:
http://canvasrider.com
I let you guys play around and get used to it and I'll release the contest entries tomorrow
PS:
Because they were recorded on a test version, some VIP ghosts might actually fail!.. Just report them to me